The Purpose of Ushio-maru and Outline of the Elongation
Faculty of Fisheries Hokkaido University had been performing the fishery researches and trainings utilizing three training ships " Oshoro-maru", "Hokusei-maru" and "Ushio-maru". The small fishery research ship "Ushio-maru" was constructed in September 1992 at Mitsui Engineering & Shipbuilding Co., Ltd. with Sanuki Shipbuilding Co. This ship was used for mainly coastal investigations around Hakodate Bay area.
According to the strong needs to cover the wider and larger scale of fishery investigations and trainings after the retirement of "Hokusei-maru", "Ushio-maru" was elongated and enlarged at Kanto Kogyo Co. in March 2002. She also equipped the newest research instruments.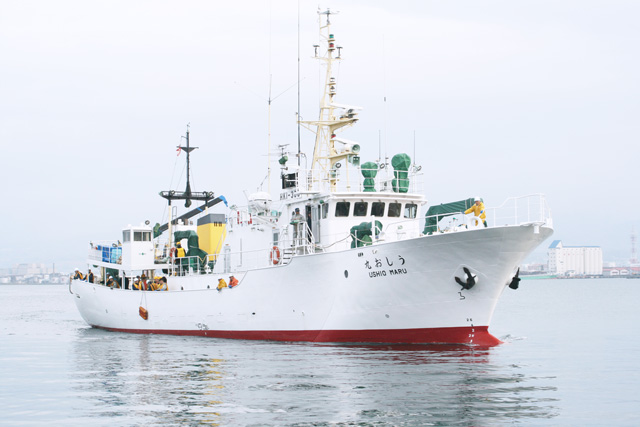 1. Range of experiments and training
Physical Oceanography, Chemistry Oceanography, Biological Oceanography, Marine Ecology, Marine Biosource production, Fisheries Resource Measurement, Fisheries Behavioral Research, Marine Chemical Resource Development
2. Fishing methods
Stem trawling, Longline fishing, Cage fishing, Gill-net fishing, Single hook fishing, Squid jigging, etc.
3. Main areas of research
Physical, chemical, biological, and ecological studies of the marine environment
Fluctuations in sea and fishery conditions, Changes in biosources, Resource management
Physics and ecology of fishing gear, fishing methods, fishing-gear design
Ecology of fishes, cephalopods, marine mammals, plankton, and benthos
Efficiency and safety engineering of fishing machinery
Resource measurement, Hydroacoustic remote sensing
Exploring the useful materials from marine organisms
PARTICULARS
PRINCIPAL PARTICULARS
Length over all
39.39m
Length perpendiculars
33.74m
Breadth
8.10m
Depth
3.00m
Draught
2.60m
Gross Tonnage
179
International GT
286
Servicespeed
11.0knots
Endurance
2,200NM
Complement
(Crew:16p、Instructors & Cadet:17p)
33p
PROPULSION EQUIPMENT
| | |
| --- | --- |
| Main Engine | 746kW-800rpm |
| Generators | 200kVA + 160kVA + 45kVA |
---